Last Memoirs - Regina Nov. 16.
---
After the execution your correspondent had a long talk with Pere Andre. He says Riel spent the whole night in earnest prayer, kneeling most of the time and speaking aloud. He evinced such an amount of pious feeling in voice, language and bearing that even the guards were moved to express admiration. He was not for on moment gloomy, and frequently assured Pere Andre he was quite happy and would be sorry if further respite came. It was the good priest who induced Riel not to attempt to make a speech on the scaffold. Riel held out for a long time, pleading that it was his duty to speak to tell that he was a prophet and would rise from the grave in three days. Pere Andre told him he had better wait till he had risen. He wished to speak of the two rebellions, but the Father reminded him that he was done with the world, and should think only of the next. Riel prayed for his friends and relations, asking God to preserve them all. Father Andre reminded him he should pray for his enemies also. Riel asked doubtingly if he should pray for:
---
Sir John MacDonald
Pere Andre - Yes, certainly. Though he is your greatest enemy, and is sending you to the gallows, yet the Christian's vengeance is prayer. Riel then prayed several minutes for Sir John, asking God to forgive his sins, to help him, give him wisdom and justice, and when the time comes to take him quickly. Then to Pere Andre he said, "I dont wish Sir John any evil. I have prayed for him but I dont think he prays for me." Father McWilliams went to the cell early in the morning to assist Pere Andre. Requiem Mass was celebrated at five and the sacrament administered at six.
---
Scotts Murder
As the hour for execution drew near Riel said to Father McWilliams, Father you are from Ontario and I want to make a statement in regard to Scott. I have been reproached with the murder of Scott. Father McWilliams - It is for that you are dying. Riel - Well, perhaps so, but I was pardoned for that in my conscience. I feel and I swear, as I am about to appear before God, that I speak the truth that the shooting of Scott was not a crime; it was a political necessity. The carrying out of the sentence was mismanaged, but I was not to blame for that. I commended the shooting, believing it necessary to save the lives of hundreds of others. There is no particle of self-reproach in my conscious for that act. Pere Andre was on the point of making what became of Scotts body when Deputy Sheriff Gibson appeared at the door and summoned Riel to the scaffold.


---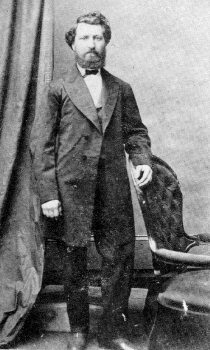 ---
Riels Body
It is not known what disposition will be make of Riels body. The authorities, as well as Father Andre, object to sending it to St. Boniface, for fear of arousing dangerous excitement. On the other hand, if buried here, it is almost certain to be stolen. The bodies of the Stevensons and O'Conners were gone within a week after execution. Pere Andre suggested placing the body in the cellar under the church here till sufficient time elapsed to make it safe to take it to St. Boniface, or wherever his friends wish. In the meantime it remains in the enclosure of the gallows in a plain wooden coffin. Pere Andre gathered all Riel's writings together in the cell last night and burned them, except the history of the two rebellions.
---
Return toLouis Riel
---
Return toThe Metis Man
---
Copyright Michael J. Durocher, 1997