Mike Durocher - Metis Artist
---
Peseesak
Acrylics - 9"x12" - unframed
September 2001 - $100.00
---
Bathing Bull Moose
October 2001 - Acrylics - 12" 16" - unframed
Kathi Wrath of White Rock, BC acquired this painting as a Christmas Gift for Bonnie Boulter, of Victoria, BC. Kathy and Bonnie were outpost nurses stationed at Stanley Mission way back in the '70s. I went on a cross countryski excursion on the Churchill River and got up close to see the oldest Church in Saskatchewan, "The Holy Trinity" Anglican Church across the river from the community of Stanley Mission. Thanks to new technologies on the Internet, after over 20 years without much contact with Kathi and Bonnie, it is great to know that friendships can last so long.
---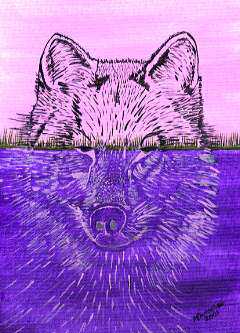 Wolf Gaze
9"x 12" Acrylics - December 2001
$100.00
---
Below is a large canvas that I started several months ago in memory of Doug Sahm and Eddie Shaver.
"Heart of Texas"
Memorial Acrylic Painting of Doug Sahm and Eddie Shaver.
16" x 20" - 1st version June 2001 - incomplete - completion target is March 2002.
This painting will look a lot better when complete as I haven't even started working on Eddie's scene yet.
Rough Draft - now I will work on the finer side such as shading, fine lines, the guitars will look as close as they are supposed to in real life.
Top half is none other than Doug Sahm of the "Sir Douglas Quintet" claim to fame and prior to Doug's death he was a member of the "Texas Tornadoes" probably after his Texas nickname. The painting is taken from a photograph I took of Doug when he was playing at the "Saturday NIght Social" at the 1986 Beauval Beautiful Valley Jamboree, Beauval, Saskatchewan, Canada.
The bottom half of the painting is Eddie Shaver a prolific lead guitar picker. I took the photo of Eddie while he was playing in his dad's (Billy Joe Shaver) band "Shaver" at Ivan Daines Country Picnic in Southern Alberta around 1996. I then drove them in a tour bus to the Annual Sipisihk Jamboree in Beauval, Saskatchewan
This painting is one-of-a-kind, no proofs, copies, reprints have been madel priceless for collectors.
I was a professional tour driver for musicians who came to northern Saskatchewan so it was a thrill to meet and make friends with many musicians.
---
Well here is the final version of Doug and Eddie. It took a lot of work and imagination to come up with this final version. I will accept offers but I will want to know some details such as why you want the painting.
Email Offers to Mike Durocher
---
---
Telephone: (306) 425-3584
---
Created by The Metis Man
---
© mjdurocher 2001 - 2008