Dzedze and the Gang
---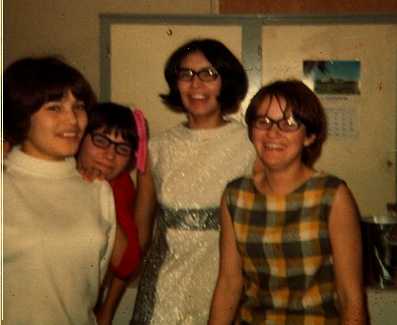 Here is a special photo taken sometime during the latter 60's.
From left to right. Louise (Caisse) Laliberte, Dorothy (Morin) Debrule,
Marie (Kyplain) Chartier, and, Lorette (Laliberte) McCallum.
Louise married Lorette's brother Stanley and they live in Beauval; , Dots married a
Louis Debrule, they live in Ile-a-la-Crosse; Dzedze married Louis (tsouie) Chartier
and they live in Buffalo Narrows; and, Lorette had married a McCallum school teacher,
and I don't know if they are still married, or where they live.
Anyone, having more current information can email me. My email is
in my metisman site, just hit the back button on this page.
---
---
Photo Credit goes to:
Leo (Chewskin) Lariviere
all the way from
Gatineau, Quebec
---