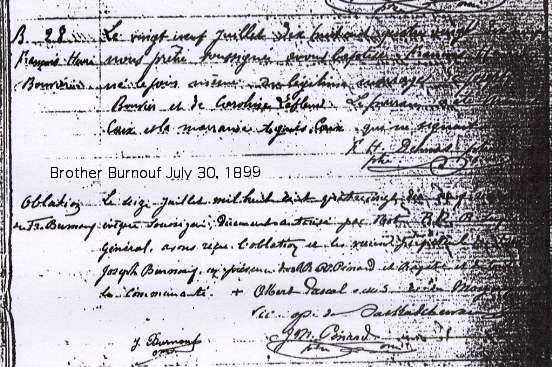 Oblate Brother Joseph Burnouf came from France and worked for the Church in Ile-a-la-Crosse then Beauval where he built many things such as a dam for power generation, he built the residential school after it burned down in the early 1900's, he built the old Church in Ile-a-la-Crosse from red brick again created by Brother Burnouf. He also built St. Paul's Cathedral in Saskatoon.
After Brother Burnouf had committed his life to the Church until his 40's he retired from the Church and then married a local Metis woman and raised a family in Beauval along the banks of the Beaver River.
There was a dispute in recent years about a new priest claiming that Joseph Burnouf had been a priest and left his vows and married an Indian woman. I suppose to outsiders they would look at one of their own as marrying an Indian when in fact the person was a Metis. Also, the Church records are in French an Fr. in French means brother whereas, Pr. in French means Father. We use the terms in Michif quite frequently. Mo frere, means my brother and Mo Pere means my father. Hope this Church record will end all speculation.
Joseph Burnouf with wife raised Eugene, Alex, Francois Xavier, Clara, Alice, and Cecile.