Size Measurement Instructions:
Feet:
Get a sheet of paper and place your foot on top of it; then, trace the outline of your foot. Go all the way around from the heel along the outside of your foot, tracing over the tips of your toes and along the inside of your foot and back around to your heel. This will allow Cecile to make a pair of mocassins that will be as close as custom fitting as possible. Please inform Cecile at the time of your order whether you want the mocassins or slippers lined and if you want a double sole. What a double sole does is it adds protection to the original mocassin hide and also, the double sole when worn down can be replaced without having to order a totally new pair of mocassins. Also, inform or send a diagram or pattern, floral design, name or letters you want on the vamps or sides of the mocassins.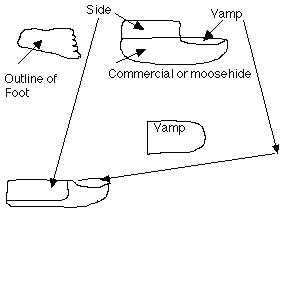 ---
Hands:
Get a plain sheet of paper and similar to the feet, trace around all your fingers if measuring for gloves. If measuring for mitts just hold fingers closely together and trace around the outside of your fingers - do not forget the thumb. Also, do not forget to inform Cecile if you want the gloves lined. Also, whether the mitts are to be lined with warm fleece lining and whether and what kind of fur trimming you want.
---
Jackets, Siwash or Vest Sizing:
Measure the Neck, arm lengths, Chest size, length of coat ie. to the hips, below the hips. Also, inform Cecile as to design patterns, names etc., and, also whether fringes and beading required.
---
Skirts: Measure around waist and hips, also, the length desired.