Vital Morin
Metis World War II Veteran
---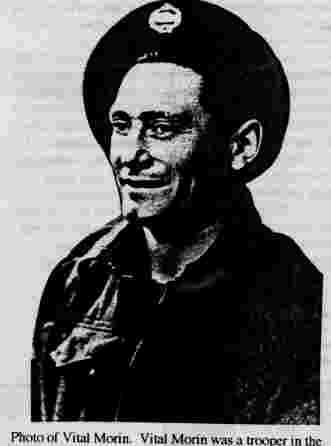 Vital Morin has lived all his life in Ile-a-la-Crosse, Saskatchewan.
He married a Therase Desjarlais had they enjoyed the birth
of many children. One of them Max is the current Mayor of
Ile-a-la-Crosse.
---
Vital enlisted with the Canadian Army as a real youngster and was
eventually shipped over seas where he saw battle. He was
captured and remained a prisoner of war until they were
rescued by comrades months after enduring loneliness, harsh treatment
and poor eating conditions. He had lost many pound before he was
to see another wholesome plate of food.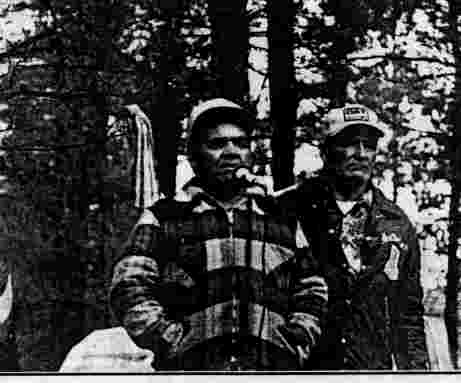 ---
The above picture has Louis Morin, brother to Vital. Unfortunately, Louis another strong advocate of Metis rights passed away last year. The picture above was taken at Palmbere Lake several years ago. Vital has been active in Metis politics for the past forty years. He has also been a
strong advocate of trying to get some kind of compensation from the federal
government due to the governments oversight in the mis-treatment received
by aboriginal war veterans after they returned from World War II. Many non-aboriginal
veterans received parcels of land to farm on through land grants yet, aboriginal people and the
Metis were denied any kind of assistance so as to better themselves. Because of the treatment
and lack of respect many aboriginal veterans returned to the slums of the cities, many died in squalor,
and many never even knew that there was supposed to be any kind of assistance from
the governments as they were never informed. Vital is still active in this issue.
---
Old age is catching up to Vital, who had a stroke a couple of years back however, he has
gained enough mobility where he still active in attending important meetings which he feels are
important to the Metis or to the Aboriginal War Veterans Issues.
Keep up the good work, ni moshoom.
---
To return to my page just hit the "back" button on top-left of this page.