Sakitawak People - Then and Today
---
Ile-a-la-Crosse 1950-52? Not Sure
The Roman Catholic Church operated residential schools at Ile-a-la-Crosse for boys and girls. We called it theboarders and the town kids were called externs. These residences were for Metis students and the treaty students attended another residential school at Beauval.
Notice that all the girls are dressed in uniform. The boys would were navy or blue blazers for Sunday mass. Click on the picture to go to are larger picture plus has a few names of students.
Names provided by Flora (nee Johnson) Jerome. Send me names of others if you recognize someone.
---
Bob Longpre's Class of 1975-76 Rossignol School - Ile-a-la-Crosse, Sask.
Back row: Lawrence (Bewits) Corrigal, Myron Mineau, Frankie Daigneault, Arthur (tsitseer) Butch Durocher, Glen Bouvier,
Lillian Morin, Janet Caisse, Ingrid McColl, Marlene (Malute) Durocher -Thompson
---
The Above TODAY
Today, 2001, Lawrence (Bewits) is a housing manager for the Ile-a-la-Crosse Housing Authority, he is married to Anna Henry and helps raise the family, he is also a competative curler and has been to several annual Aboriginal sponsored bonspiels; Myron Mineau is married to Olive, very dedicated, has raised a family and has worked in La Ronge for many years; Frankie works as a mining technician, is married to Violet Gardiner (Sandy Point) and have raised a family together; Butchy is a lawyer-consultant never been married but raised a family, most times as a single parent all through university. Way to go cuz. Glen Bouvier and wife Karen took NORTEP, became school teachers and raised a family that includes Krissy their daughter who is also a second generation NORTEP. Krissy has now been teaching in La Loche for the past two years
Lillian Morin lived in Meadow Lake took schooling in accounting and now lives in Edmonton, she raised three children most times as a single parent. Way to go cuz; Janet Caisse works as a social worker, is engaged to Hubba; Ingrid became an educator,married, raised a family; Marlene became a nurse married Howard from Wutsus Bay who is now a retired plumber.
Imagine that! Congratulations, everyone one of you is working and contributing by being of service to others in your respective jobs. And, not only that, your all alive - back in 75 some of you were pushing it.
There has been no recent sightings of Bob Longpre but he must have done a real good job - if anyone sees him tell him the grade 11 class of Rossignol High said Hi in 2001.
---
---
"Rubber Boot Band"
Morin Brothers - Ile-a-la-Crosse
Photo taken April 1962. Left to Right: Jeffery Morin 18 with a fiddle; Frankie 16 plucking away as usual; Allan 15 seems to be enjoying the sounds and has a guitar on his lap; Bullet (Edward) 20 appears to have taken the role as lead singer; Dorothy 11, the baby if the family just had to be in the picture; Potty (Lawrence) 13 already has the pose of a musician.
For the historians, this photo was taken at the old Louis Bijou Hotel which was operated at the time by Georgina and Jimmy Morin, parents of the above. The hotel had ten rooms so the kids used to have their own rooms which was a real luxury in those days.
Where are they now in 2005? Jeff runs a taxi business, was involved in logging in Ile-a-la-Crosse, and also farms with his family in the Langenburgh area. Frankie spent half his life in the skids of Vancouver before returning to Ile-a-la-Crosse almost twenty years ago. His wife Edna attended the NORTEP Program in La Ronge until she graduated a couple years ago. Edna was currently into her second year of teaching at Pinehouse when Frankie took ill and subsequently passed away on the 24th of November, 2005. We are still in shock. Allan married Louise Desjarlais and they raised three children mostly in Ile-a-la-Crosse. Allan was the Treasurer of the Metis Nation of Saskatchewan. Tragically, Edward (Bullet) died in a car accident a year later in Prince George, British Columbia. Due to the lack of social services and support services at the time (1963) Bullet was buried in Prince George because the family could not afford to have his body returned for burial in Ile-a-la-Crosse. Dorothy or Dots as she was known in her younger years, moved to Alberta and married Louis Debrule. The family eventually returned to Ile-a-la-Crosse many years ago. Potty lives in Hay River, NWT and spent some time in Edmonton before returning to Ile-a-la-Crosse for a couple ofyear then back to NWT.
All the boys with the exception of Jeff have maintained a close connection to music. Allan enjoys entertaining with his music, Frankie plucked his guitar every day and Potty has been involved with bands and entertaining all his life.
---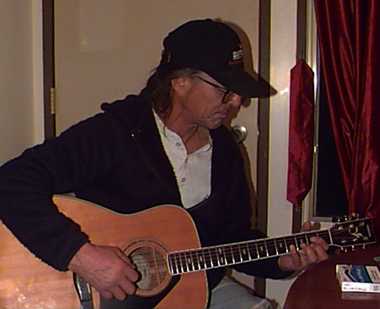 Frankie Morin has been pickin away on a flat top for over forty years. He has that raspy voice and plays John Prine kinda tunes even a few of his own. Wife is Edna (in above photo)
---
Charlie Ramsey and his brother were young boys in 1946 when they served as alter boys here they are fifty years later serving as alter boys in 1996.
---
Dzedze and the gang. Louise (Caisse) Laliberte, Dorothy (Morin) Debrule, Marie (Kyplain) Chartier, Lorette (Laliberte) McCallum.
Louise marrued Stanley Laliberte and raised a family in Beauval where Stan runs a towing business and Louise is the Postmaster. Dorothy left home to seek her fame and fortune in Alberta where she met her husband Louis. They returned to Ile a la Crosse when their children were still small and have since lived in the north. Marie has been a career social worker and should be nearing retirement. She is married to Louis and they raised a son Steve. Marie and family live and work in Buffalo Narrows. Lorette Laliberte married Larry McCallum from Buffalo Narrows where she still resides.
---
Doctor Hoffman's residence which was provided by the Mission which operated the hospital through the Grey Nuns. Other doctors would eventually live in this house until it was deemed so old that it was demolished.
---
Doris Favel from Sakitawak and Gail Sayese from Akwakopee Sakahigan (Green Lake) outside the legislative buildings in Regina. They were part of a group of students that attended the old annual "Co-op School" program held in Ft Qu'Appelle in 1977. These teenagers are now approaching their forties and both have received their education degrees and are now educators.
---
Ile a la Crosse Fire Fighters win it all in the 70's. Lawrence Mccallum, William Gardiner and Pierre Daigneault have since passed away. Robbie Gardiner is now a conservation officer.
Big Bad Brad Caisse -
Timagan Trucking

Duncan Gardiner (L) and one of Jean Ratt's boys participating at a peaceful gathering outside the La Ronge Post Office in 1990.

Jimmy "D" Durocher - Past MNS President - Consultant and Co-Chair Primrose Lake Air Weapons Range Compensation Claim.

Louis "Big Lou" Gardiner

Hockey Legend: Sandy Point's First Junior A Player with the Flin Flon Bombers 1970. Community Recreation Promoter, School Board Trustee, Municipal Councillor.

Sits on various committees representing his community.

The Late Senator Vital Morin
A Legend in his own time, WWII POW and Veteran. Metis and Municipal leadership.

James "Jazzy" Corrigal, Tavio Morin, Wayne "Tsi Bop" Morin, RJ Morin outside a wedding shop where they were suiting up for Tsi Bop's wedding 90 or 91.

My dad Joe and I relaxing at dad's house on one of our many visits to Ile-a-la-Crosse.

Left to Right: Myself, Ida Gardiner and Evelyn (Gardiner) Misponas. This photo was taken at Deep River when Ausland was still operating his mink ranch around 1959-60.
---
I will try to add more pictures as I find them- if you have pics to share email them to me.
---
Go Back to The Metis Man
---
©mjdurocher 2000
---